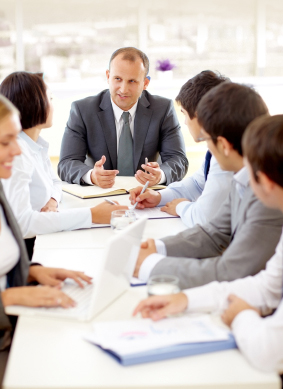 At Vision Law® Corporation, we believe that California business owners should not have to worry about employee claims or lawsuits. So we have created a simple, common-sense approach to preventing legal challenges and liabilities for your business that's actually affordable, and won't get in the way of what's most important to you – growing your business. We believe it is one of the most innovative legal protection programs ever created for California small and medium businesses. We call it the Predictable Fees Program.
Employee terminations can be stressful and risky.  "How to Fire" guidelines:
Evaluate Legal Risk:
Is this a "long term" employee, say employed 5 or more years?
Will your employee see this coming, or will it be a surprise?
Have you adequately documented the reasons for termination via write ups and/or documented verbal counseling?
Is your employee in a protected category (medical condition, disability, sexual orientation, religious beliefs, age over 40, among others)?
Does your employee have a medical issue or disability that relates in any way to your desire to separate?
Has your employee engaged in "protected activity," such as complaining about harassment, wage issues, other workplace related issues?
Is your employee on a medical/disability, workers' compensation, and/or any other form of protected leave of absence?
Would termination seem "retaliatory" for any reason?
Any other reason that causes you to hesitate?
If you feel you have risk: reconsider termination and consider other options: more training, setting clear expectations, more counseling/discipline/writeups, other measures to mitigate risk.
If you move forward with termination:
Decide what if any information you will give the employee about the reasons for termination 0-10 (0 = no information; 10 = employee was the subject of a workplace investigation and they are being terminated for misconduct; 1-9 depends on the circumstances, generally how long the employee has been employed, the conduct underlying the termination decision, assessed legal risk of termination).
Plan the termination meeting (location, time, who will be present).  Terminations should be in person, in a private location/time, and only management should be present — no coworkers.
Prepare final check — Under California law when you fire someone, you must provide their final check "immediately," i.e. at the time of termination. Failure to do so can result in up to 30 days' wages as a penalty for being late.
Execute on the plan — generally termination meetings will be very short, how short depends on what information you will provide the employee (see above).  Except for exceptional circumstances, termination meetings can be 2-3 minutes in length, enough time to let the employee know their employment is being terminated, provide the generally limited information as to the reason(s), if any, and provide the final check.
Do not engage in a debate with the terminated employee.  You've made up your mind and are not going to change it.  You are not obligated by law to provide an explanation to the terminated employee.
Do not give the employee a false reason for termination, even if you are trying to soften the blow or relieve yourself of the stress.  It's better to provide no reason rather than a false one.
The above is provided for informational purposes only.  It is not and does not substitute for legal advice from an experienced employment and labor law attorney.  Specific facts and details are necessary for any attorney to provide sound legal advice.  If you have questions/concerns, call us.
Vision Law® is offering a FREE 30-minute labor law consultation for California employers.
Client Bill of Rights
Results Oriented Representation
Clients pay us to achieve their goals and objectives, not ours. Vision attorneys focus on and obtain the client's desired goals/objectives.
High Value Representation
Clients understand that their money is more important to them then making their lawyers rich.
Creative Representation
Very outside the box thinking to achieve the desired client result through law or business principles or both.
Efficient Representation
Cost/Benefit will drive our selection of strategic alternatives based on desired outcomes.
Timely Representation
We strive to respond to client inbound communications within ½ business day or less. We meet client deadlines and immediately apprise the client upon determining the deadline is in jeopardy.
Serendipitous Representation
We will call clients when they are not expecting us to check how they are doing and to offer to take them out for a free lunch.
Friendly Representation
Legal problems are serious, but we like to keep our advice and demeanor friendly. We're your trusted advisors and colleagues, on your team and in your "back pocket."
High Maintenance Representation
We are proactive. We keep our clients in the loop, we communicate constantly to keep you apprised of what's going on, so we can meet your expectations and minimize surprises.
Plain English Representation
We communicate legal answers in plain English.
In California, one survey reported the average wrongful termination jury verdict cost businesses $449,150 for compensatory damages and $674,843 for punitive damages. Plus, attorney's fees and costs for defense can easily run into the low to mid six figures depending on the complexity of the case.Other common labor lawsuits Vision Law® can help you avoid include:
Overtime, Rest/Meal Period and Late Payment of Wages Claims
Discrimination Claims
Retaliation Claims
Defamation Claims
Leave of Absence Related Claims
Harassment Claims
Breach of Contract Claims
Trade Secret Misappropriation and Unfair Competition Claims
Class Action.s & Business & Professions Code 17200 Actions
Wrongful Termination & Whistle Blowing Claims
Invasion of Privacy and Drug Testing Claims
Audits of Independent Contractor Status
We will return your call within a ½ business day (when requested prior to 11am PST; otherwise, by next business day).